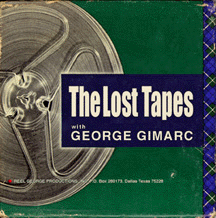 George Gimarc


---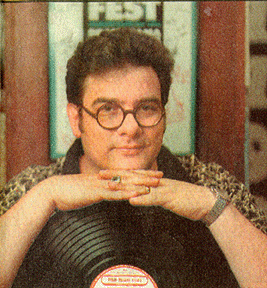 PREVIOUS OCCUPATIONS: Spent 29 years in radio working for a variety of stations. Among them WRR, KNTU, KDNT, KZEW, KRQX, KZPS, KNON, and KDGE. Way back in March of 1977 George went on the air on the College station (KNTU) with "The Rock & Roll Alternative" which was one of the first regular "new wave" or "punk" radio shows in the US. The program was the only venue that new music was played on the radio throughout the late 70's and early 80's. Acts that George was responsible for breaking in the DFW area include R.E.M., the Go Go's, U2, Psychedelic Furs, Sex Pistols, Devo, B 52's, XTC, The Smiths, The Cult, and hundreds of others. The program moved to commercial radio on May 18th, 1980, the same day that Mt. St Helens exploded and Ian Curtis of Joy Division hanged himself. These two events were not meant to draw attention to the debut, and in fact might have contributed to the lack of National TV coverage that evening of the debut. The "Rock & Roll Alternative" continued through 14 years, until it was retired. It was broadcast on four different stations throughout its run in Texas, and at one time was on as many as twenty pirate radio stations throughout Europe, England and Australia.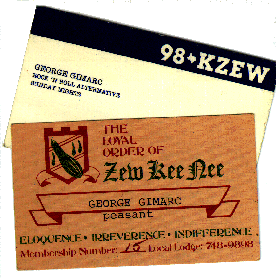 George Gimarc also played music director and DJ on oldies radio, starting KRQX in Dallas in 1982. It was recognized as being the first "classic rock" station in the country, the birth of a prominent radio format that caught on like wildfire across the nation and was responsible for putting even more money into the vaults of dead rock stars.

After leaving the comfy confines of KZEW in the winter of '87, George started up "Back Pages" on KZPS. It was an eclectic classic rock show combining rare records, intriguing stores and loads of listener requests. It was the only spot to hear those rarest-of-the-rare recordings.

In 1989 word leaked out that a new station was going on the air in Dallas and George jumped in with both feet. KDGE (The Edge) was musically designed by George and his new friend Wendy Naylor. A staff was hired and the station hit the air at the end of June of '89. Though hampered by a dodgy signal at the first, it was an instant success, defining the cutting edge in rock and breaking new acts left and right. George hosted the afternoon drive shift and was music director for the station. He also put together and financed all of the station's "Tales From The Edge" CD releases, eleven in all. As usual, all good things must come to an end and in the summer of '93 the Edge was taken in a new "top-40ish" direction. Among the changes was changing out most of the staff, including those who started the station.

Beyond the Edge, George took full control of his role as President and owner of Reel George Prod. Inc, an umbrella organization that covers his present role as a music historian with two books ("Punk Diary 1970-1979" and "Hollywood Hi Fi") already in international release. He's also the sole writer for the "Rotten Day" with John Lydon program now running in over 50 markets, consulting work on projects like the Time/Life "History Of Rock And Roll" series and putting together compilations and writing liner notes for several record labels.

Another outlet of Reel George is a radio promotions and CD manufacturing company. It's an outgrowth of a project that George ran for KDGE radio for the last nine years. He assembles and produces compilations of unsigned regional bands for other radio stations. The collections that George did for KDGE were titled "Tales From The Edge" and run up through the current Volume 11. Many of the bands on the CD's went on to get signed to national labels and others saw their careers flourish overnight. Similar records have been produced by Reel George in San Francisco, San Diego, St. Louis and Sacramento. In fact, it was from the KPNT St. Louis disc that the group Gravity Kills sprang to fame.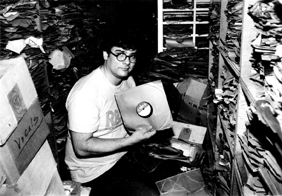 Although he's best known for his contributions to the alternative music scene, George Gimarc is expert in many fields of music. His first show in radio back in the 1976 was hosting a 50's radio nostalgia program playing requests from listeners and learning about the music from rock's formative years. As his record collection grew, so did his knowledge about the music encompassing the genres of electronic music, reggae, vintage country & western, big band, blues, folk and psychedelic rock. Similarly, he's built up a network of contacts in those fields who are experts only a phone call away, a wonderful research base that is a resource he treasures.

It would be difficult to find anyone more in touch with the punk music than George Gimarc. His passion for music explains his collecting some 65,000 records, and knowing something about each and every one of them. There are few that can put a work like this together working from real life experience and their own resources. **The photo isn't George's unkempt library- he's on a record safari at a 78rpm warehouse!
---

GEORGE GIMARC's BOOKS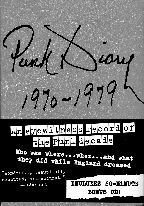 PUNK DIARY 1970-79 covers the first riotous decade of punk. The story begins in 1970, and lurches through an incredible cast of characters and unlikely role models. Although generally centered on the scene in Britain, important American bands are brought in also. What makes this unlike any other rock book is that it treats the scene on a day to day basis, diary style, the way it actually happened. The only way that this tangled web can make sense. Each entry details record releases, bands getting together or breaking up, riots, arrests, and revealing quotes from the personalities of the day. There's even a gig guide of who was playing where each night. The sources include a decades worth of music newspapers, front room fanzines, a towering stack of records, magazines, in depth personal interviews and copious notes. There are over 2,000 music news entries and 1,000 recordings detailed. "PUNK DIARY '70-'79" is accurate. It pins things down to a moment and makes no judgments as to what influenced what. The reader takes the information, sifts it, looks for the common thread and can "live through" the decade the way it happened. Since it is broken into easily digestible chunks, a day at a time, it can be opened anywhere, read through for a few minutes and closed without losing your place. Every page reveals a nugget that is unknown in print outside of this work. Records that among the rarest in the genre are annotated with details even the artist forgot. The follow up is the September '97 release, "POST-PUNK DIARY 1980-1982."


POST-PUNK DIARY 1980-1982 is the next installment of the Punk Diary tome. This time it's the mutation of punk into the thrash and Oi! movements, the rise of the California skate scene, as well as developments in Washington D.C., New York and elsewhere. On the other end of the spectrum, you'll read about the rise of the New Romantic movement with groups like Duran Duran, Visage and Spandau Ballet. Boy George will deny that he's gay, 15-year-old Annabella Luwin will bare herself for a Bow Wow Wow album cover and America will find new bands beginning with names like R.E.M., 10,000 Maniacs, and The Bongos. Although it only covers three years in music, this complete day-by-day diary includes over 900 bands and in excess of 3,300 records. A must for any early eighties music fan.


HOLLYWOOD HI FI is the next book from George written with an old friend named Pat Reeder. It's an overview of 125 recordings by singing celebrities who really should never have been allowed into a recording studio. You wouldn't believe the songs sung by Jerry Mathers, Joe Pesci, Clint Eastwood, Leonard Nimoy, Bette Davis, Hogan's Heroes, Joan Rivers, Rex Reed, Mae West and others. The book will be marketed in parallel with a full length CD of material covered in the book. The writers are also lining up an extensive radio promotion campaign and some TV appearances as well. This book is currently out of print (thanks to the long-range sight of St. Martin's Press) but will be added to and re-released soon by Pat & George. Check in discontinued book racks for a copy, they can get pretty cheap, but then a good cheap laugh is always welcome.

Back to the front.